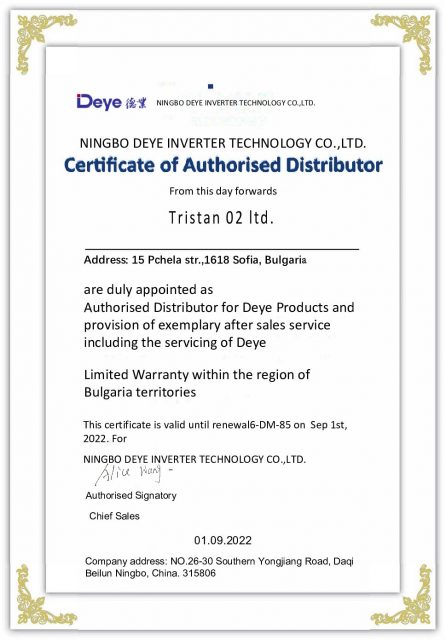 Tristan 02 Ltd. is the official representative of DEYE inverters for Bulgaria.
Ningbo Deye Inverter Technology Co., Ltd., founded in 2007 with a registered capital of RMB 300 million, is one of China's high-tech enterprises and a subsidiary of Deye Group. With a factory area of over 15,000㎡ and complete production and testing equipment, Deye has become a major player in the global solar inverter market.
Ningbo Deye Inverter Technology Co., Ltd. is dedicated to providing complete solutions for photovoltaic energy systems, including solutions for residential and commercial power plants. In addition, Deye offers the right device for every application: for all module types, for grid connection and stand-alone networks, as well as a hybrid inverter system, for small house systems and commercial systems in the megawatt range. Among them, grid PV inverters with power from 1.5-110kW, hybrid inverters 3kW-50kW and microinverters 300W-2000W.
Tristan 02 Ltd. in partnership with Unitraf AD developed a specialized service base authorized by Ningbo Deye Inverter Technology Co., Ltd. for warranty and post-warranty service.
We have on stock the most common inverters and provide fast delivery for large projects.