Low Voltage Lithium Batteries ( LiFePO4 )
Low voltage Li-ion battery systems are mainly rated voltages between 12V and 48V.
The battery pack is equipped with a BMS control system that implements safe battery management and provides full monitoring through an integrated display or computer software.
No maintenance costs and easy installation in a 19-inch communication cabinet. They are designed for different types of installation and assembly that meet the requirements of various applications, such as a standard cabinet, wall mounting, fixing a pole and more.
Compatible with multiple communication modes of R232, RS485 and SNMP
Capacity can be increased by connecting two or more systems in parallel.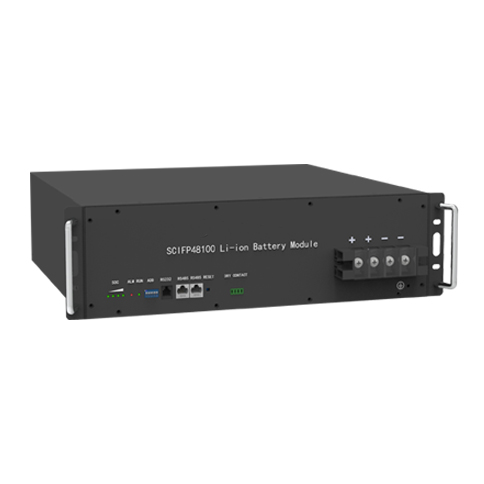 Properties and characteristics
Cycling life: 3500+ cycles to 90% DoD
Design life: 12+ years
Available capacities:
High Voltage Lithium Batteries ( LiFePO4 )
High Voltage Lithium Batteries (LiFePO4) battery systems with rated voltages from 96V to 600V suitable for high discharge currents in three-phase systems. Built-in intelligent BMS with monitoring and protection function. The presence of an LCD display makes it easy to monitor the basic parameters during operation.
High voltage lithium batteries are compatible with most UPS systems on the market, customers can communicate and manage various UPS systems via RS232, RS485, SNMP, CAN, Modbus.
Customized solutions are available to meet different applications and requirements.
Features:
Security and High reliability:
Made of deep-cyclic, reliable and safe LiFePo4 cells.
Four levels of protection (per cell, battery, battery module and shelving system)
Reliable system connection.
Charging and discharging the system are controlled separately, which helps for seamless switching.
Saving rental costs; saving the cost of using the premises by saving space and reducing weight.
Save energy by reducing power consumption near 0 in standby mode.
High quality cells with low resistance, the degree of energy conversion higher than 98%;
Highly efficient discharge, suitable for more than 3C discharge current.
Modular design allowing different combinations and increasing power;
Long life
Custom solutions:
Can provide customized systems based on different customer requirements.
Apps:
Can be used for many different applications, the direct voltage range from 96V to 600V providing 15 minutes of standard power supply in emergency mode! Highly recommended for short-term emergency power supplies with high discharge currents.
Properties and characteristics
Cycling life: 3500 cycles to 90% DoD
Design life: 15 years.
Available capacities: 96V to 600V systems from 10Ah to 200Ah (Ability to increase capacity by connecting racks in parallel)